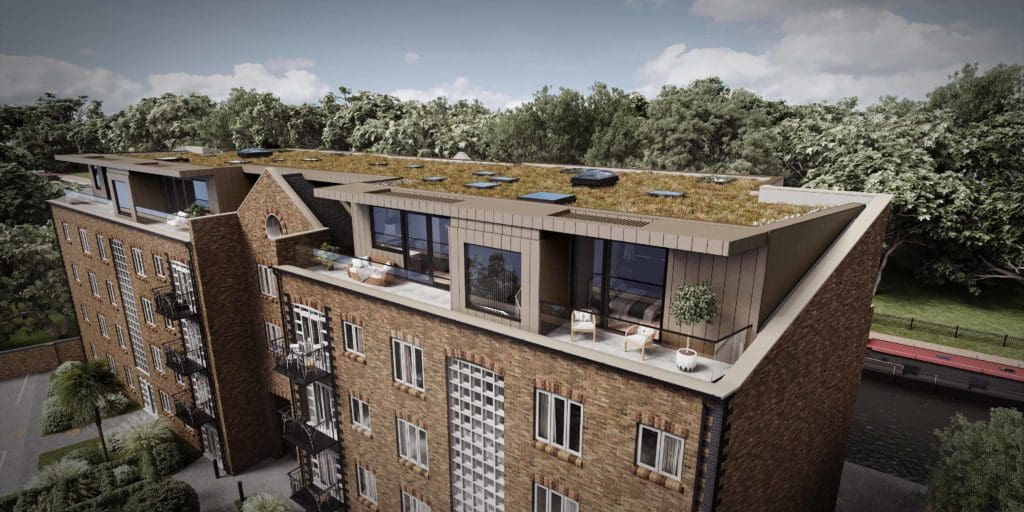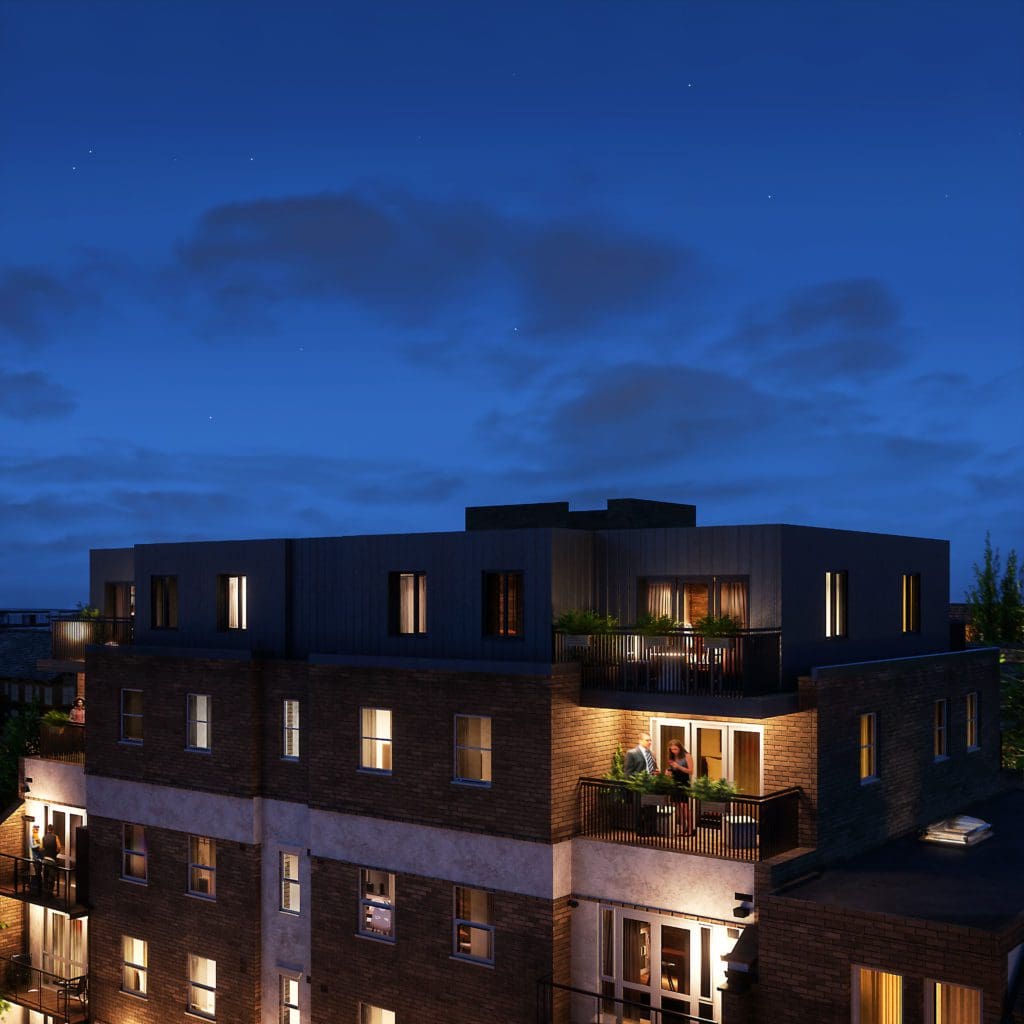 If you're walking the streets of London, look up and what do you see? You're likely to be in a densely built-up place, surrounded by multi-story buildings. And above them you'll notice there are acres and acres of free space.
You've just spied the area of opportunity for new homes in the capital: rooftop housing.
Building accommodation above buildings that already exist brings a range of benefits for people, society and the environment.
Why build on rooftops?
A roof is the perfect place to build a home – you've got a view and often you're hidden from the street. Flat roofs in particular are the perfect unused space. Currently housing satellite dishes and air conditioning ducts, they could be put to much better use. This is where rooftop housing, also known as airspace development, comes in.
The rooftops of London have the potential to support thousands of new homes. These new dwellings would be ideally located near great transport and local services, and close to the heart of the UK's culture and economy.
Upspace are award-winning property developers who have specialised in rooftop housing for years. We are experts in this flourishing new property sector.
For further information on how you can work with us to develop your building's rooftop, contact us via the link above. And read on to learn more about the many benefits that building new 'homes in the sky' can bring.
Live in a great location
One of the obvious upsides of building on top of an existing structure is that it creates accommodation where people want to live. It's no accident that airspace development is already established in the world's major cities like New York, Paris and London.
In cities like these, free land to build at ground level is at a premium. Often, buildings are demolished to make way for newer ones. So why not turn to the unused, and often wasted, space that rooftops provide? It's the forward-thinking solution.
Be a part of thriving communities
French architect Stéphane Malka refers to the rooftop housing movement as 'social enheightenment'.
He hails the practice because it preserves local connection and community, rather than creating sprawling new residential zones lacking in character.
"Building on top of the roofs is not only an ecological and economical solution, it's working against the urban sprawl that kills the social link," he writes.
You can take a look at his proposals for modular homes in Paris, which would be made in a factory off-site, then delivered complete to be attached to a rooftop.
All the local services you need
It's said that when someone is tired of London, they're tired of life. And it's certainly true that London has everything you need close at hand to enjoy life to the full.
City living puts residents close to their places of business, transport links and restaurants. For older people, accommodation within the city offers independence and stimulation, and a place within existing communities.
Hospitals, universities, theatres, world-class shopping and so much more are all easily accessed via public transport in London. Getting out of the capital is simple too, via the many major rail stations and Heathrow and Gatwick airports – all well connected with public transport.
Access to green spaces
Living in London doesn't mean you give up enjoyment of green spaces. London is made of 40% public green space, including 3,000 parks totaling 35,000 acres. Find out more about London's parks and green spaces here.
It's easier to live without a car in London than it would be in the country. London residents can get around on foot, bus, tube or train to nearby parks and amenities. Forget about parking, road tax, and of course the carbon emissions that come with owning a car.
Stay safe, secure and serene
Living above the roofline offers great views over the city and a bigger sky. It offers more safety than living on the ground level as it's harder to access via windows and doors at or near street level.
You have more privacy higher up, and you're further away from the noise of ground level. You're even less likely to suffer from bug and pest infestations, as pests are more likely to trouble you closer to where they live in nature.
Greener, sustainable living
Homes that are built as additions to rooftops are generally made in part or entirely off-site, in a factory setting. This saves on energy and carbon emissions, and there is less on-site noise and pollution for existing residents of the building.
Buildings that support rooftop housing receive an upgrade to their communal areas and can be made more energy efficient and secure.
The new units themselves use the latest insulation guidelines and energy-saving technology, saving on both energy use and costs.
Saving existing residents money
Upspace developments add a new roof to each building project, with a 20-year guarantee. A new roof can be a substantial cost for residents living in shared ownership buildings. This pushes the necessity of replacing a shared roof far into the future.
Existing residents can also save on their energy bills through the improvements to the fabric of the building. Service charges can also be reduced as communal areas and safety features will have received an upgrade.
Preserves buildings for the future
Building new housing on top of existing structures, rather than demolishing to build new homes, is kinder to the planet. Architects want the construction industry to pull down fewer buildings and refurbish instead. They argue that the carbon emissions created when manufacturing steel and bricks for new buildings is damaging to the environment. (Read more here.)
Buildings that have rooftop housing added get a new lease of life that extends their lifespan. They receive a welcome injection of cash that may not have happened without the addition of new rooftop homes.
Tackles the UK's housing crisis
It's possible there's space above existing rooftops in London to create 180,000 new homes even with 'very modest development', according to a 2017 report.
At the same time, the UK has an estimated shortfall of 1.2m homes to fill its housing gap (source: BBC Housing Briefing). So, exploring fresh ways of creating homes is a win-win solution for everyone, particularly when rooftop housing brings so many other advantages.
Avoids formal planning applications
In 2020, the government introduced Permitted Development Rights (PDR), making it much easier to erect one or two stories on top of existing buildings without formal planning permission from local authorities. The driving force behind PDR was to increase the housing supply.
Existing residential blocks and commercial premises are particularly well suited to airspace development. Not every building will meet the criteria, so it's useful to take a closer look at the rules here.
Unlocks extra capital in your property
Can you make money from the sale of your airspace lease, or by developing your airspace with a property developer? The plain answer is yes.
The Sunday Times describes one freehold that was estimated at £5,000; the estimate jumped to £950,000 after the building owner gained approval to add seven new rooftop homes.
Freeholders who develop their existing rooftops or sell the airspace lease to a developer like Upspace can expect to benefit from paydays ranging from tens of thousands of pounds to well beyond that.
Get in touch with us to find out about working with us, or selling your airspace lease to us. We develop airspace properties that we retain for the private rental market. This means we keep an ongoing interest in the development.
Read more about Selling Development Leases for Airspace.
Innovative way of living
Necessity is the mother of invention, and homes in the air come in beautiful, innovative designs that make use of the latest technology and materials in construction.
Take a look at some cutting-edge rooftop homes around the world and you'll understand the variety and potential that rooftop housing can bring to any cityscape.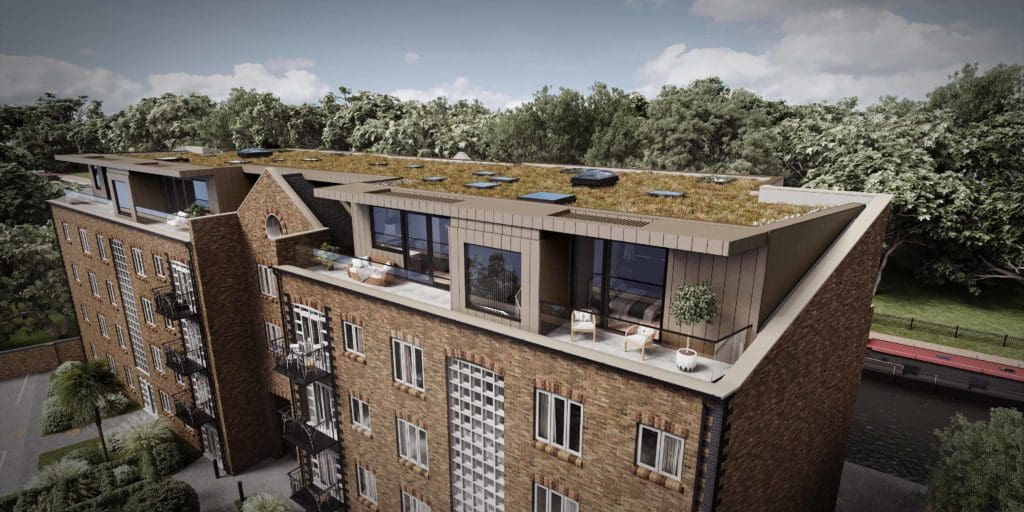 Stunning homes in the sky
The pictures on this page show designs for airspace projects by Upspace in London. Our guiding principle is for the new developments to be high quality and in keeping with the existing building. We also add a luxurious, modern feel to the new units. We have more ready-to-go rooftop construction projects than any airspace developer in London.
Transforming a skyscape
Harmony with surroundings, stunning vistas and serenity of living 'in the air' are all hallmarks of rooftop homes. In Bangkok, WARchitect have designed a wood and glass rooftop home that epitomises the spirit of exciting homes in the sky.
Located near Bangkok's well-known Chatuchak market, this beautiful wooden box has a front facade that can't be seen from the outside – creating an almost invisible living-space high above the bustling city. This private home is all the more striking because it sits atop a five storey building that stored water tanks before the owner decided to optimise the unused space.
Work with Upspace
It's easy to understand the growth and potential in rooftop development when you read the many advantages in this article.
To get further information on rooftop houses and airspace development, get in touch with us. We are happy to answer any of your questions.
Rooftop housing group
Upspace are co-founders of the Association of Rooftop and Airspace Development, ARAD, formed to protect and ensure quality in the rooftop construction industry.
We are joined in the association by Apex Airspace, Click Above and Fruition Properties. This union between London's four expert airspace property developers reflects growing interest and adoption in rooftop development and construction.
If you are a property owner thinking of airspace development, please get in touch to find out how we can support your next steps into the future of residential housing in London.
Upspace
PO Box 1334
Enfield
EN1 9AP
---