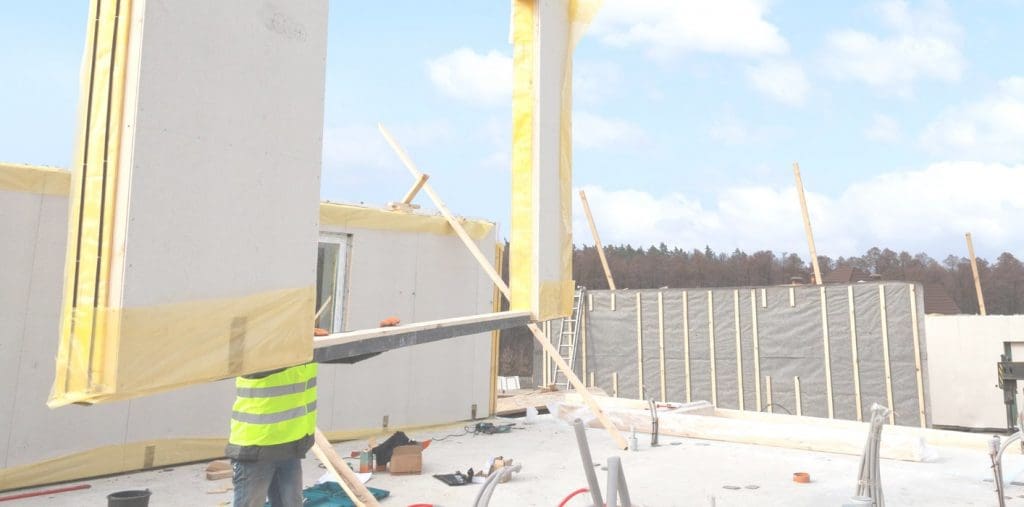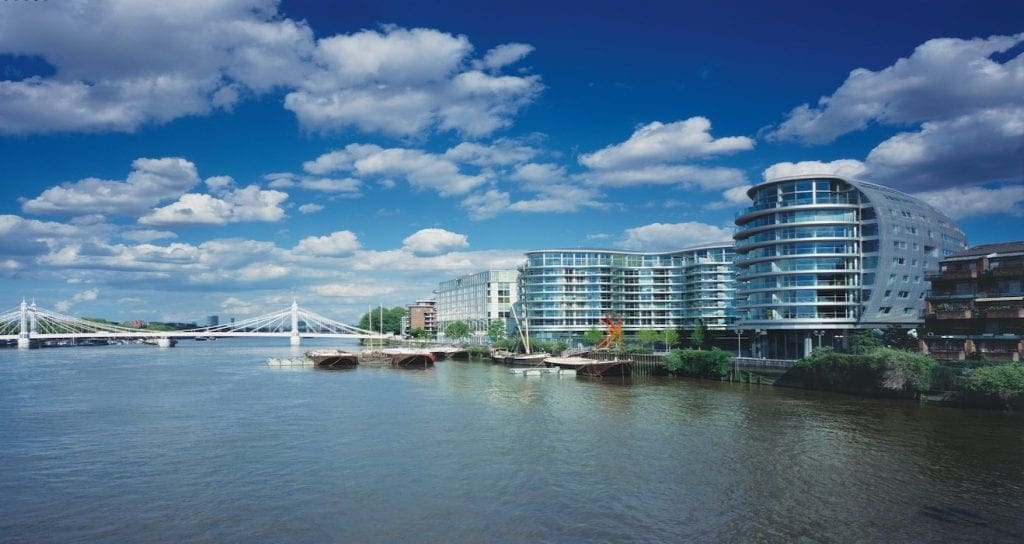 What defines off-site construction?
Off-site construction refers to the process of manufacturing elements of a building away from its intended final location. The pre-built units are later transported to the construction site, where final assembly takes place.
There is a range of options for building properties either partially or fully off-site. Techniques include the use of cross-laminated timber panel (sometimes called crosslam or xlam) for the manufacture of load-bearing walls, roof panels and floors. The xlam sections can be made to include structural openings, such as doors and windows, with insulating material added to the external face after assembly.
A similar off-site technique is the construction of high-performance building systems known as structural insulated panels (SIPs). These panels are created using insulating foam between engineered lumber boards called oriented strand boards (OSBs), or flakeboards. SIPs are extremely versatile and can be manufactured to fit most building design specifications.
The practice is increasingly popular due to its associated reduction in construction lead times and contribution to sustainable development. This can be seen through its use of renewable resources, minimal waste production and low energy usage during the construction phase.
When does building off-site make sense?
The type of proposed structure will largely dictate the most suitable methods of construction. Buildings that lend themselves perfectly to off-site fabrication include:
large modular structures, such as hotels or student halls of residence
high-rise apartment blocks
rooftop units; for example, additional flats to be positioned on top of a pre-existing residential building
The increased use of off-site methods across all sectors of the UK construction market is strongly endorsed due to the many associated benefits, including shortened lead times, reduced construction noise and minimised disruption to residents.
This has resulted in membership organisations such as Buildoffsite actively promoting the development of off-site solutions wherever possible.
How can a building be 'manufactured' off-site?
A large range of methods is employed when building off-site. The primary off-site systems are explored in further detail below:
| Off-site construction system | How it works |
| --- | --- |
| Component (sub-assemblies) | Small sections of the building are constructed in a factory for use within the finished structure; for example, floor cassettes, roof cassettes and chimney stacks can all be pre-fabricated and anchored into place on site. |
| Panelised | Wall, floor and ceiling panels are made in a factory to be transported to, and assembled in, a building on-site. These can be pre-fitted with electrical and mechanical components such as water feed pipes or light switch fittings. |
| Volumetric | Pre-engineered and assembled units which are transported to the site and fitted into either an existing building or as part of a construction project; for example, a bathroom pod. The unit is ready to use upon installation and comes complete with full plumbing, wiring and tiling. |
| Modular | Systems that involve the pre-construction of units, or modules, off-site before assembly on-site to create the building itself. Modules can be pre-fitted with air-conditioning, plumbing and electrical systems, as well as windows and doors. |
For further information about off-site construction methods, see our frequently asked questions.
What are the reasons for off-site construction?
The reasons for choosing off-site construction rather than more traditional methods include, but are not limited to:
a significant reduction in project lead times
minimised disruption to residents and leaseholders
the ability to construct under controlled, and therefore safer, conditions
a higher degree of quality control and consistency in comparison to traditional, on-site construction methods
You'll find further details about the advantages of using off-site techniques in the article 'Why off-site construction is taking the headache out of renovations for residents'.
At present, there is no industry standard for assessing the benefits of off-site techniques over traditional methods. However, in some cases the reduction in construction time can be as great as 50% when using off-site rather than traditional methods.
There are currently a number of organisations working to create a summary report that will enable a direct comparison between the two approaches, based on such variables as:
type of project (for example, housing, school, hospital)
total project cost per square metre
time period from project start to practical completion
Is off-site construction cheaper than using traditional methods?
Off-site construction is more expensive than traditional methods, and is therefore used solely to reduce disruption for current residents and speed up building work. On average building costs 20-30% more than traditional, on-site methods.
Just a few factors that increase the cost of off-site construction are:
increased financing costs due to abnormal cash flow requirements
Delivery and crane costs
Increase in insurance costs due to use of new technology
Is off-site construction sustainable?
One of the primary advantages of reducing on-site build times is that it is environmentally friendly. It is far easier to control energy and emissions in a controlled factory setting than on construction sites, for the following reasons:
shortened construction schedule
minimal on-site disturbance
reduced need for heavy machinery and on-site vehicles
reuse of materials inherent to off-site construction methods
reduced on-site waste
Previous case studies have suggested net energy savings of around 30% can be made when building off-site compared with traditional on-site construction methods.
---