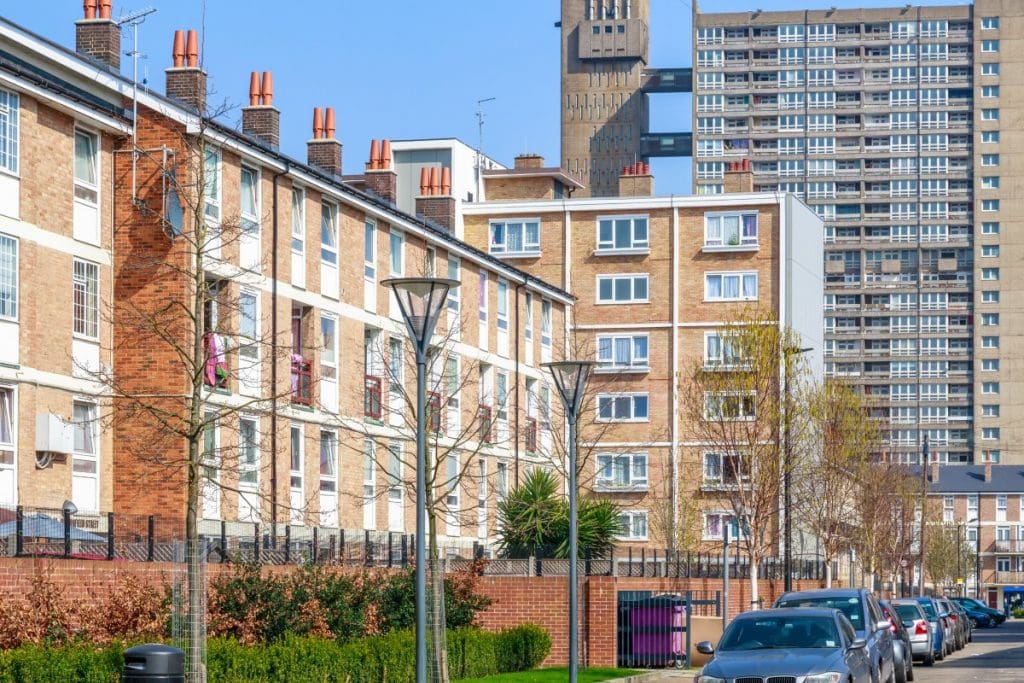 In July 2020, the UK Government introduced changes to Permitted Development Rights (PDR) with the intention of making it easier to build on top of existing buildings in certain circumstances.
This page acts as a guide to those changes, outlining the criteria a building and project would have to meet in order to  obtain 'prior approval' for an airspace development.
What is Airspace Development?
Airspace development is the process of expanding an existing building by developing upwards – adding extra storeys to create extra square footage from the same footfall at ground level.
The process is increasingly common in cities where there is a requirement for new housing and yet available land for new projects is at a premium. In the UK, air space development has been mentioned in Government papers as a form of development that should be prioritised.
On site, we have a detailed guide that explains what air space development is and the benefits it provides.
Why the Need For The PDR Changes?
Many UK cities have a housing shortage, none more so than London. 
A London Councils members briefing stated that the capital could have a shortfall of 559,000 homes by 2021 while separate data from the office of Mayor Sadiq Khan suggested that there was a need to build 66,000 new homes per year.
To put those figures into context there has been no recent decade in which more than 200,000 new homes have been built; unsurprisingly the rate of development has also been impacted in 2020 by the Covid-19 pandemic.
Airspace development has long been seen as a partial solution, this form of development has been popular in the United States for many decades, but there still remained obstacles to projects being approved. 
Often the wait for decisions would be lengthy and the final yes or no could be a matter of subjective opinion for the local council.
The rationale behind the PDR changes is to create a system in which certain projects can be approved far more quickly, moving to a system whereby approval is less subjective and therefore quicker.
What Are The PDR Changes Relating to Air Space Development?
The changes do not accelerate the approval process for all airspace developments but instead apply to projects that meet all the criteria listed below. 
The changes relate to projects that look to build on existing buildings that are at least three storeys in height and that were originally designed as purpose built blocks of flats, the implication therefore being that this will be a means to relatively quickly increase housing stock.
As per government guidance No.632, the criteria a project must meet in order to gain prior approval are:
The original building must be at least three storeys in height above ground level
The building must have been built between 1 July 1948 and 5 March 2018
On a staggered building, it is the higher part that can be built upon – this planning change is not to allow staggered buildings to be 'filled in'
The floor-to-ceiling height cannot exceed three metres or more than the ceiling height of any of the existing storeys.
The newly developed units must be flats
The overall height of the roof of the existing building cannot be greater than 7 meters higher than the highest part of the existing roof
The building must be free standing and have been purpose built as flats
On completion, the development cannot be more than 30 meters in height (not including plant)
On completion, the development to have no visible external support structure
Development to take place within the existing curtilage of the building
The developer must submit a report relating to construction management, this covering the hours of operation and how the impact of noise, dust, vibration and traffic to the site will be minimised for the benefit of existing residents. 
A project could, though, meet all the above and still not be eligible for this prior approval, because of a number of caveats. Many of these caveats are fact based and so easy to check in advance by the developer, but others still have a degree of subjectivity.
Heritage buildings, sites of special natural interest and any land within three kilometres of an air field are all exempt from the changes.
The local authorities have also been asked to assess:
The impact on transport
The provision of adequate sunlight for the new dwellings
The external appearance of the new building
Whether the project impacts on a protected view
The project's impact on the existing property, i.e. those already living in the block of flats, and also neighbouring buildings.
A key difference though is the onus has changed and it is now expected that any project meeting the eligibility criteria will be passed for approval unless there is a clear infringement relating to one of the caveats. 
The caveat that could be the most problematic for developers is the one relating to 'external appearance of the building'. This retains a degree of subjectivity and so could lead to the rejection of a prior approval application. 
For any developer there is also increased certainty, they will know that if their project matches every standard as outlined above then they will have approval, they can start planning with certainty.
The changes will remain in place until 31 July 2021, the government has indicated that new, revised legislation will be introduced thereafter.
At present, as of December 2020, there are no fees payable for prior approval applications. 
What is The Impact for Property Owners?
As is the government's aim, the changes are likely to encourage many more property owners to consider airspace development,
The amended PDR legislation has increased the profile of airspace development whilst at the same time removing a lot of the subjective nature of the approval process. A property owner will now be able to quickly check if their building is suitable for this process.
For a property owner of a block of flats there is now a heightened incentive to pursue airspace development.
What is the Impact for Developers?
The impact for developers is varied.
A streamlined approval process for certain projects is to be applauded but there is also a concern that many non-specialist developers could start pitching for airspace development projects.
For an experienced airspace developer, many of the changes make only a minimal difference to their approach when compared to the level of planning and thought they were already putting into any potential project prior to the legislation update.
Experienced developers will already know which buildings are suitable and know the common pitfalls to be avoided.
A concern would be that there is a lot more to airspace development than simply identifying a suitable building. The PDR changes have simplified that aspect, one can now say with a greater degree of confidence that a building will gain approval, but this does not ensure the quality of the work will be high.
There could suddenly be a lot more airspace development undertaken, but there aren't now a lot more airspace development specialists.
What if a Building Doesn't Meet These Criteria?
It is worth noting that the changes to PDR legislation are not meant as a guide to which buildings are unsuitable for airspace development, they identify a subset that can relatively quickly be approved.
An example is the criteria that the finished project cannot be more than 30 metres high. It is still possible to carry out air space development that leads to a finished building well in excess of 30 metres, but it will require a fuller planning process.
Again, the experience of the airspace developer is key. 
Those who solely build in this way will have past experience and the skillset to be able to assess which projects are viable and so likely to gain approval. They will also be able to quickly rule out potential projects, potentially because the build would be too complex or there are other concerns such as the impact on other properties, existing residents or the locality.
It is worth noting that there is no deemed approval provision, the development cannot begin until prior approval is received and this may be conditional. 
Are Further Changes Planned?
At present there are no known changes planned but that is not to say further alterations will not be made.
If the recent PDR changes lead to a high number of quality developments then that could influence further discussions. 
The reasoning behind these changes is likely to persist – that there is a housing shortage and that air space development can provide a solution. That being so, further moves to accelerate the approval process cannot be ruled out.
About Upspace
At Upspace, we are specialist airspace developers who develop long-term relationships with freeholders and leaseholders.
We undertake much of the build off site to reduce disruption. The exact figure will vary, but we are able to carry out up to 80% of the work off-site – typically prefabricated dormers, timber I-beams, chimneys, plumbing systems and more (for further details please see our FAQs).
If you would like further information or to discuss the potential suitability of your property, please get in touch.
---