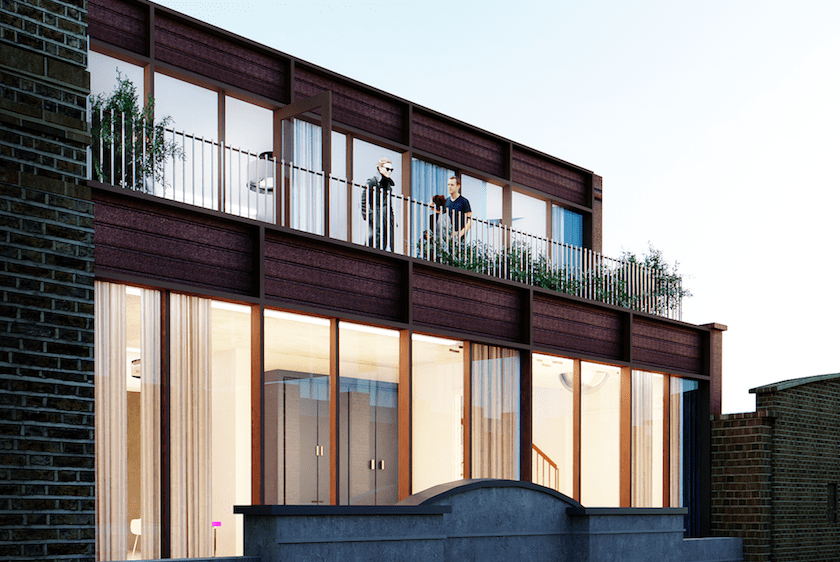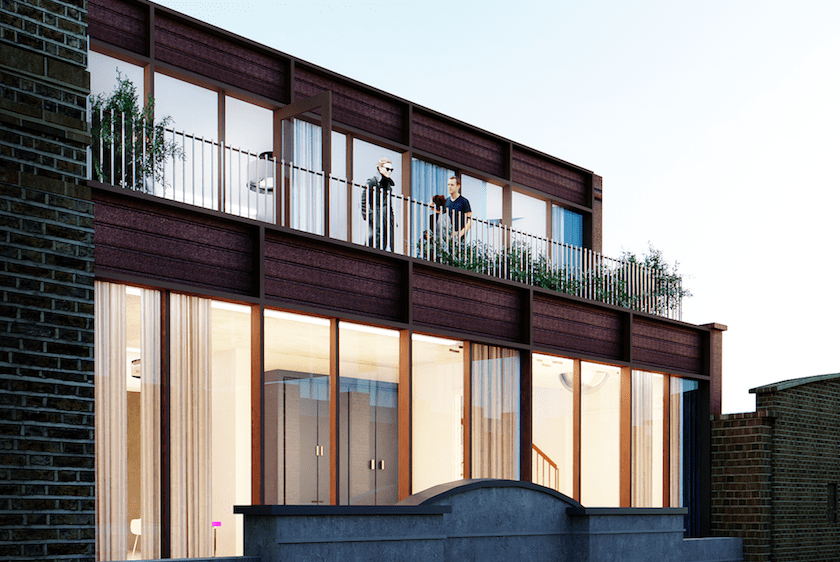 This rooftop extensions guide is for freeholders, as well as leaseholders with a share of the freehold, who are exploring the possibility of extending their property upwards. 
Wondering whether a rooftop extension is suitable for your building? Upspace is an award-winning developer specialising in residential airspace development.
Find out how you can work with us to unlock hidden capital in your building by adding new dwellings above the roofline.
Why add a rooftop extension?
Rooftop extensions are a resourceful solution to London's housing shortage. Although London is not the world's most densely built-up city, free space for new buildings is nonetheless at a premium.
Every building has a roof, however; and every freehold has the right to the airspace above the property. If your property is suitable for a rooftop extension, freeholders can earn money from building a rooftop extension, or selling the airspace rights to a developer like Upspace.
To discuss your airspace or a rooftop development, please get in touch with us by email. Our rooftop extensions guide answers some common questions.
How do I get started?
You provide the airspace and we do the rest. You can either sell the airspace opportunity to Upspace, or we can develop the airspace together as a joint venture.
Airspace development is a relatively new field of property development, and your best approach is to work with a company like Upspace. We have years of experience in rooftop extensions.
We're a founding member of ARAD, the Association of Rooftop & Airspace Developers, set up to ensure best practice and high standards in this expanding area of construction.
We work with design and construction experts in all fields of property development and our buildings are finished to a high standard with high safety ratings.
Can I buy or commission a rooftop extension from Upspace? 
You can contact us directly and we'll discuss your site for potential development. No middle man is needed. 
You may then choose to develop the space above your roofline in partnership with us, as we've done with other freeholders in London. Or you may prefer to sell the airspace lease to us, and we'll develop the space ourselves.
As part of the project, we'll upgrade the fabric of your existing building. Post-completion, we retain the flats in the rooftop extensions for the private rental market. This means freeholders have an ongoing relationship with us, from start to finish.
Working with a trusted partner like Upspace makes the project run smoothly, with positive outcomes for everyone, including leaseholders and residents in the building. The work we do on the existing building and its common areas can add up to 10% to the value of the original flats as demonstrated by our projects completed to date.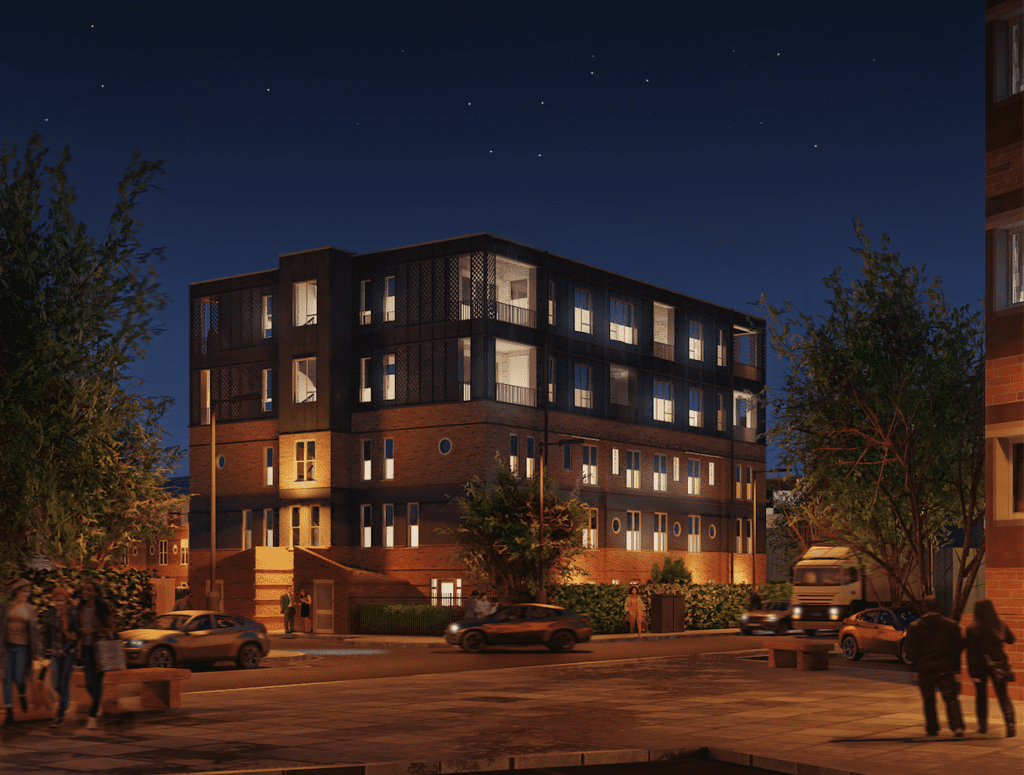 Do extensions on rooftops need planning permission?
Yes, and no. Since July 2020, it's become much easier to action rooftop extensions above existing buildings due to Permitted Development Rights (PDR).
It's called 'permitted development' because it doesn't need to go through the usual planning permission route. The permission is already granted. However, as it is subject to conditions and limitations, one still needs to apply for permission just like a planning application.
It is generally seen as an easier process, as the principle of development is generally set. The application is to show that the conditions are complied with.
However, this doesn't mean you can't add rooftop extensions to your building if the project doesn't meet the PDR criteria. You'll have to go down the full planning permission route, which Upspace can help with.
Also, even if your project fits within the permitted development rights guidelines, this doesn't guarantee approval. There are additional considerations – for example whether a building is listed, the natural light to the new residential units, and impact on local amenities.
Planning permission and PDR are areas of expertise for us. At the time of writing, Upspace has more consents for rooftop extensions ready-to-go than any other airspace developer. We are very knowledgeable due to our unrivalled experience in the sector.
What will my rooftop development look like?
Rooftop extensions in partnership with Upspace will be residential units, which we will rent on the private market following completion.
Depending on the building, location and budget, we typically develop up to two storeys of flats above buildings such as mansion blocks, or fewer high-end units.
The new residential dwellings are usually in keeping with the style of the existing building. So they may be mansards finished in tiles, vertical additions finished in standing-seam zinc, or stylish modern glass boxes.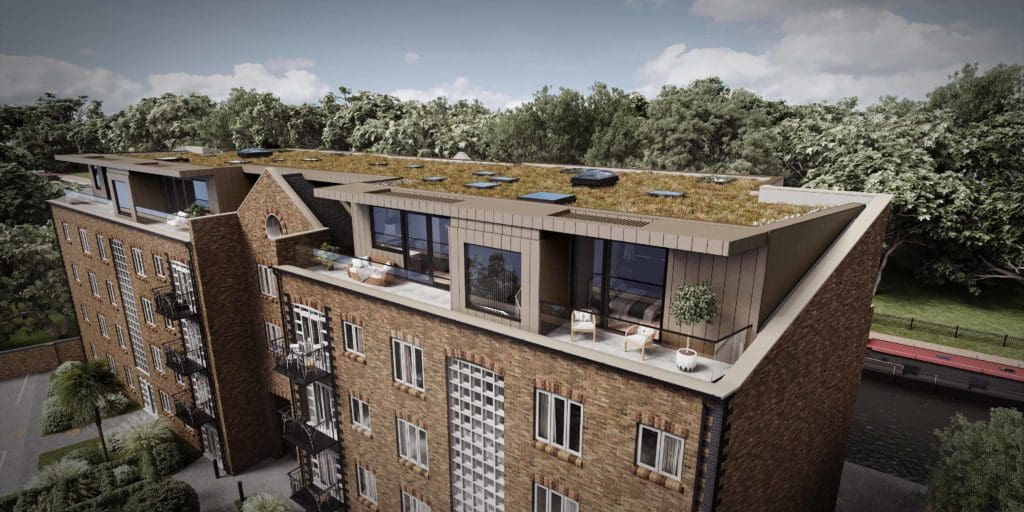 The photos on this page are CGI images of our current projects in London. They are designed to be in harmony with the original building, and will be retained as flats for rental.
We work with design and construction experts in all fields of property development and our buildings are finished to a high standard with high safety ratings.
How long does rooftop construction take?
Typically the planning phase can take between 3-12 months, and construction 6-12 months.
Rooftop extensions make full use of off-site construction, which dramatically speeds up the build time. In some cases, it can reduce it by 80%.
It also means less noise for residents of the existing building, and greater safety as there's less that can go wrong on site.
Components are made with the same materials and designed to the same codes and standards as traditional construction. There's greater quality control as they're made in factory settings, and less waste. Once completed, the parts are fitted into place on site.
How much does rooftop building cost?
Airspace development is the coming thing, but it's not something that can or should be done on the cheap. Costs are generally in excess of 50% more than 'ground up' construction. This cost difference is derived from:
Remedial works to old buildings
Constrained site access
Remember that the development makes profits from under-utilised rooftop space, which is unlikely to be earning money in other ways. One freehold for a block of flats in north London was estimated to be worth £5,000. According to The Sunday Times, it went on sale for £950,000 after the building's owner gained approval for a two-storey rooftop extension of seven flats.
How to work with us
If you'd like to take the next step with your airspace development, get in touch to discuss your plans with us, or for more information.
We're happy to answer any questions, and look forward to leading you on the next steps into the future of residential housing.
Upspace
PO Box 1334
Enfield
EN1 9AP
hello@upspace.co.uk
If you found this Rooftop Extensions Guide helpful, please see Rooftop Development in London: A Guide for additional information. And visit Why Upspace?, about the benefits of working with us.
---