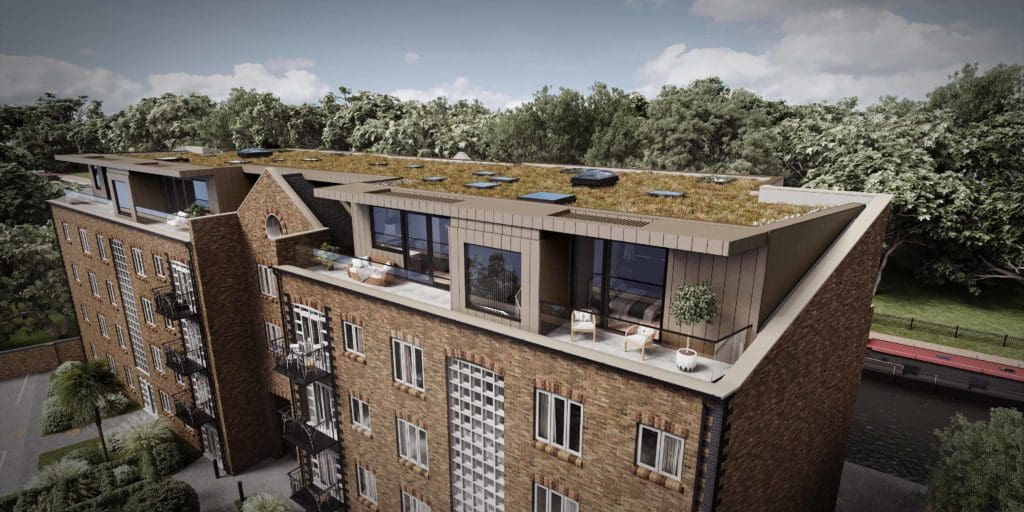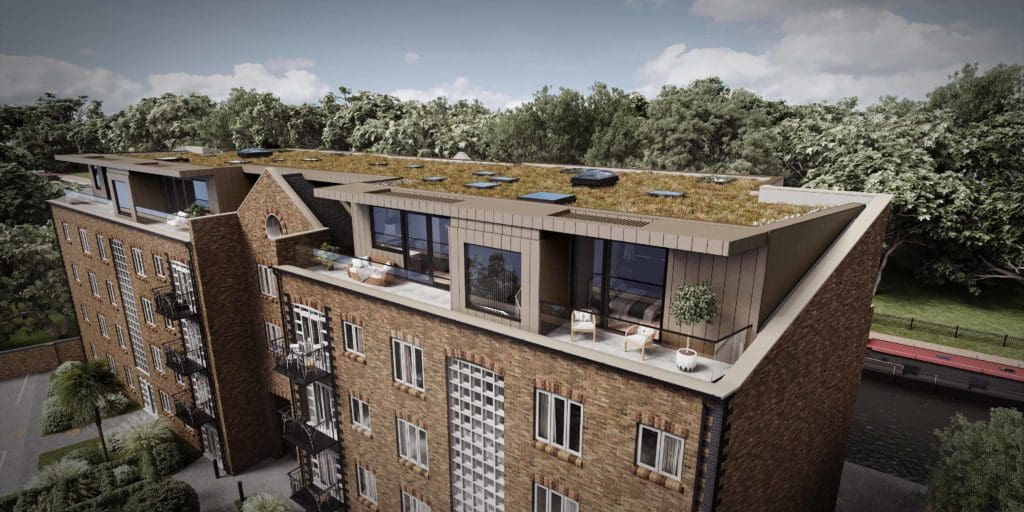 What are airspace leases? Put simply, they are leases that grant the right to use or develop the space above the rooftop of a property.

Some people may not even be aware that they own these rights – and that the leases could be a lucrative asset. This exciting property development opportunity can also breathe new life into a building and provide much-needed new homes in sought-after locations.
Are you considering leasing the airspace above your property or building a rooftop extension? Find out how you can partner with Upspace to develop the space above your building working alongside us, or or selling the airspace lease. We'd love to discuss your project with you.
What is airspace?
Property owners can lease the airspace above their property as a way of maximising the income from their investment.
You might lease the airspace to a developer like Upspace, who adds new properties to the rooftop of your building. Or you could lease the space to a tenant who installs solar panels or other equipment on the roof. Either way, you will earn money from the airspace lease.
A property owner has rights to the airspace above, but only to such height as is necessary for the ordinary use and enjoyment of their land. This means it can be 'trespassed' by trees, cranes or projections above the property. However, it is unlikely to be trespassed by a plane.
According to the Civil Aviation Authority, you have a right to enjoy the lower stratum of airspace immediately above your property. This is usually restricted to between 500 and 1,000 feet above roof space level. But it is an evolving area of law that gets tested by cases.
Why Upspace for airspace leases?
Developing upwards can unlock much-needed space to help ease London's housing crisis.
It's estimated that the UK has a shortfall of 1.2m homes to fill its current housing gap, according to the BBC's Housing Briefing. Meanwhile, a report in 2017 by planning firm HTA Design suggested that even through 'very modest development', London rooftops had the capacity to produce at least 180,000 new homes.
Upspace stands out from other airspace developers in London. We retain the new rooftop homes built through airspaces leases for the private rental market. This means we have an ongoing interest in the original freehold property as well as the new development.
This page features some of our exciting developments in London. They show the type of roof extensions that we can added above your property by Upspace. All with less upheaval than you might expect and a host of benefits for property owners as well as tenants.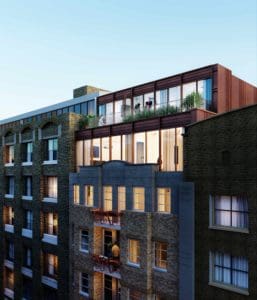 Upspace has a 100% building safety record. Our off-site construction methods – which we employ wherever possible – minimise noise, disruption and completion time.
We are experts at developing the airspace above properties and have extensive experience of dealing with airspace leases. Click below to find out more about working with us, and all the benefits that leasing the airspace above your property to us can bring.
Why develop your London airspace?
Is an airspace lease right for me?
Airspace development projects are subject to planning permission. However, under certain circumstances permitted development rights can be used which make the process easier.
Our Permitted Development Rights guide outlines the criteria a building or project would need to meet in order to obtain 'prior approval' for airspace. It is a good place to start if you are considering selling the rights to the space above your property via an airspace lease.
Upspace: Permitted Development Rights guide
Upspace can answer questions about the suitability of your project. For specialist legal advice about airspace leases, a solicitor would be happy to advise you. There are a growing number of firms who specialise in airspace leases as this is an emerging area of property law.
Next steps: Working with Upspace
Undertaken responsibly, airspace development can offer a lot of benefits for residents who live in the property that is built on.
There is potential value in the airspace rights above your property, which can be unlocked by selling the rights to a developer like us via an airspace lease. In addition to the money this can bring in, the new development can increase the value of the existing properties.
With Upspace projects, it's common that service charges are reduced, emergency efficiency is increased, and the fabric and common parts of the building improved.
There are many gains to be had, but an airspace lease and rooftop development needs to be approached with professionalism and expertise. We bring both to every project we work on.
Take a look at our Upspace FAQs about airspace development. They answer most questions that come up when people are considering an airspace lease for the rights above their property.
OPEN AND HONEST – AIRSPACE FAQS
Contact us
We would be happy to talk to you further about your airspace rights and project. Get in touch using the contacts below. We're happy to answer any questions, and are incredibly responsive with requests.
We are ready to lead you into the future of residential housing! Contact us today.
Upspace
PO Box 1334
Enfield
EN1 9AP
hello@upspace.co.uk
---