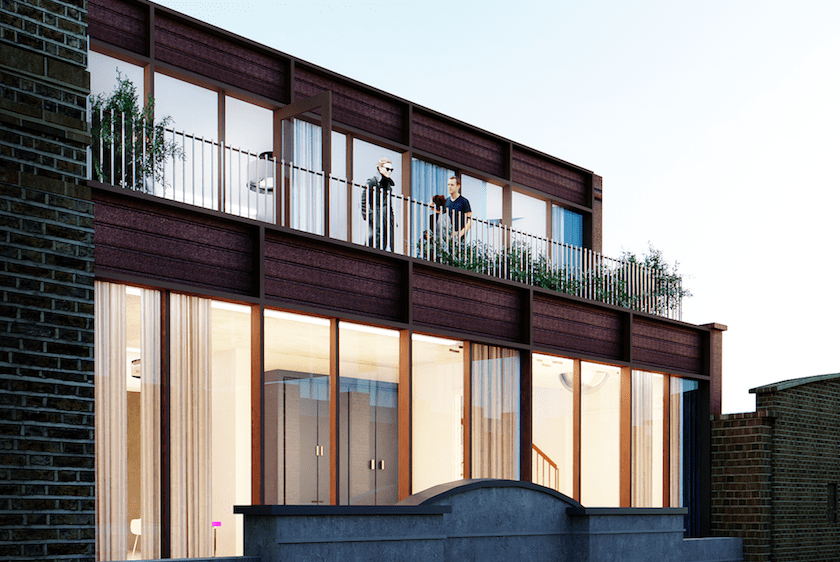 Airspace development unlocks space in the rooftops of the capital to provide room for much needed new homes in London.
Rooftop developments should be virtuous circles, with economic, environmental and societal benefits that ripple outwards from individuals to communities.
This means that everyone connected to the project is impacted positively, not just the freeholder of the building and the developer.
In a previous post we looked at what can go wrong when an airspace development project doesn't take this 360 approach.
In our experience of the industry, choosing a developer who focuses entirely on their own profits is invariably the cause of property nightmares associated with sub-standard airspace developments.
But it doesn't have to be like this.
Done properly, airspace developments can and should bring financial benefits to everyone with a stake in the building.
In this post, we'll take a close-up look at some of the ways that leaseholders can benefit financially from rooftop development projects.
Increased value for existing properties
Successful rooftop developments can provide a capital value uplift to leaseholders' properties. When new units are added to the top of your block of flats, upgrades are normally done to the fabric of the building and to the communal areas.
These can add to the value of your property, without you having to do anything at all.
Upgrades to the entire building during airspace developments typically add 3% to 4% to the value of existing units. Sometimes it can be as much as 10%.
According to Zoopla, average flat prices in London are nearly £550,000, so this means almost £55,000 in potential capital value uplift for your property.
Below we outline the ways that an airspace development adds capital uplift like this to the existing properties. If some of these things aren't happening in your building's rooftop development, it might be time to ask why not.
Improvements to the facade
Upspace's rooftop developments are always done in harmony with the existing building. When the new rooftop units are added, the facade of the building may get a facelift, particularly entrance areas.
For anyone worried about cladding, in most cases Upspace will not add external cladding to the property. If engineering and building experts deemed it necessary, we would always consult leaseholders before cladding is added. And we only ever use cladding that is non-combustible and complies with all the latest regulations.
Fabric of the building
Security and Health & Safety standards are generally improved in a building with rooftop developments, particularly in the entrances, exits and other shared areas.
New lifts may be installed, for example and new LED lighting. Accessibility and safety measures are often upgraded throughout the building too.
Better communications systems such as full-fibre and satellite may be installed and old, defunct cabling removed.
Internal communal areas
Communal areas often get a total revamp, which includes flooring, paintwork and decor, and the fittings and fixtures.
Security, windows and things like the intercom systems and lighting are often upgraded too.
New roof
All Upspace developments come with a brand new roof with a 20-year guarantee. This can reduce service charges, insurance premiums and costly bills for repairs.
External communal areas upgrade
Externally, security lighting may be improved and shared spaces like bin storage and bike parking expanded and modernised.
Rental value uplift
If you rent out one of the existing properties in the building, all the benefits above will have a knock-on effect on your rent. The upgrades to the common areas, and improved safety and security standards, can all translate to higher rental value.
In addition, service charges normally are reduced after airspace developments, as there are more units sharing the costs. Some of the future improvements have already been taken care of by the airspace developer as well.
So, you receive more rental money while potentially paying out less in service charges. Service charges can vary from hundreds of pounds a year to thousands.
You can find out more about how airspace development can help reduce service charges in this previous blog post.
Lower insurance costs
Both freeholders and leaseholders normally see a decrease in their insurance costs after an airspace development. There are a few reasons for this:
The building's safety and security is fully up to date.
The building has also had a recent full survey and valuation.
Any structural problems will have been addressed as part of the building work.
Most importantly, the building's new roof reduces the risk of water damage to the insurer, and this will usually knock money off the insurance premiums.
Buildings insurance premiums are already rising, because of the increased cost for insurers of any repairs. So any reduction could help to offset this.
Downsides for existing residents?
It's true, airspace developments will have some downsides for existing residents while construction is ongoing. Construction of rooftop developments with Upspace normally takes 6 to 8 months.
Although much of the project's construction is done off site, residents will experience some disruption and noise during the project. If you rent out your property, this can even mean some loss of rent if potential tenants are put off by the construction.
However, the benefits that rooftop development can bring to a building and to the people living there are clear. The building itself, as well as the area, can get a whole new lease of life. And as we've shown in this post, there are welcome financial benefits for the existing residents.
Responsible airspace development
Recently we looked at What Can Go Wrong with Airspace Developments. When existing residents are cut out of the process, they are often left with problems rather than profits.
To mitigate against this, Upspace and other responsible airspace developers set up ARAD, the Association of Rooftop and Airspace Development.
We believe that airspace development projects should benefit everyone involved, not just freeholders, developers and residents of the new units.
There's a code of practice that ARAD has established, which responsible developers engaged in rooftop construction can sign up to. This can safeguard against the kind of problems caused by choosing the wrong developer.
You can take a look at all the developers who are current members of ARAD here.
How Upspace stands out
Upspace is distinct from other rooftop developers in that we retain the new rooftop units for the private rental market.
This means we have an ongoing stake in the project and become part of the wider community within and around the building. Currently, we have more ready-to-go projects than any other rooftop developer in London.
If you or your freeholder is considering developing the roof space above your property, get in touch to find out more about working with us.
We look forward to leading you to the exciting future of residential housing in London.
OFFICE
PO Box 1334
Enfield
EN1 9AP
---